Programs Offered
Program A :
126 hrs. 1st year Students
Occupational Objective:
The graduate will be more than half way to the point of passing the Residential Wireman's State Exam.
Program B :
126 hrs. 2nd year Students
Occupational Objective:
graduate will have knowledge to pass the Residential Wireman's Exam. (with 2 yrs working time)
Program C :
126 hrs. 3rd year Students
Occupational Objective:
The graduate is close to Journeyman level
Program D :
126 hrs. 4th year Students
Occupational Objective:
The graduate is guaranteed the knowledge to pass the Journeyman Wireman's Exam (with 4 years working time)

| Each Program Costs | Tuition | Registration | Total |
| --- | --- | --- | --- |
| Programs A thru D: | $2000 | $350 | $2350 |

(Subject to cost change).
See Educational Services for more details on programs.

Build a future with responsibility, integrity and leadership
In electrical construction and beyond!

WE ARE NOW OFFERING ALL OF OUR CLASSES ONLINE
Class Schedule
Programs are 5 months each.
Part time only Tuesday, Wednesday and Thursday 6-8 PM
When an unexpected closure occurs due to extraordinary conditions such as inclement weather, students will be notified as soon as possible by phone/ text/email and or radio, T.V. that provide closure information as a public service.
Classes are not held on these holidays:
Memorial Day
Thanksgiving
Labor Day
Build a future with responsibility, integrity and leadership
In electrical construction and beyond!

WE ARE NOW OFFERING ALL OF OUR CLASSES ONLINE STARTING IN JULY
Now accepting applications!
No high school diploma or GED required.
Entrance Requirements / Enrollment / Postponement of Start Date /
Placement Assistance ...
Entrance Requirements
The school does not discriminate based on race, sex, religion or ethnic origin. Prospective students do not need a high school diploma or equivalency diploma to be accepted for enrollment. However, there are companies that do require these documents for employment. Most accept a Trade School Diploma. A mark on your record may not be held against you. Some restrictions may apply.
Enrollment
Prospective students may email name, address, and phone # to RMETIDenver@gmail.com to be placed on our upcoming enrollment list.
Postponement of Start Date
Postponement of a starting date, whether at the request of the school or the student, requires a written agreement signed by both student and school. The agreement must set forth:
Whether the postponement is for the convenience of the school or the student, and;
A deadline for the new start date, beyond which the start date will not be postponed.
If the course is not commenced, or the student fails to attend by the new start date set forth in the agreement, the student will be entitled to an appropriate refund of prepaid tuition and fees within 30 days of the deadline of the new start date set forth in the agreement, determined in accordance with the schools refund policy and all applicable laws and rules concerning the Private Occupational Educational Act of 1981.
Placement Assistance
Rocky Mountain Electrical Technical Institute will help students in job placements thru our network of contractors and suppliers. While assisting you in your job search, we make no guarantee expressed or implied of future employment. Current law prohibits any school from guaranteeing job placement as an inducement to enroll students.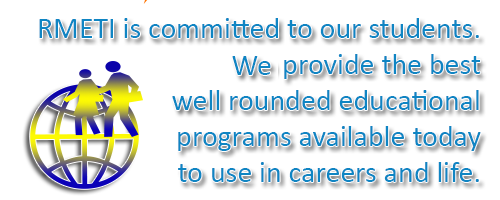 WE ARE NOW OFFERING ALL OF OUR CLASSES ONLINE STARTING IN JULY
Attendance Requirements / Progress Policy / Grading System /
Graduation Incentives ...
Attendance Requirements
Students are expected to arrive to class on time and with proper materials. An overall attendance rate of at least 95% is required. Instructors may request your withdrawal from the program if you miss more than 3 classes without valid reasons. Proper documentation will be required to substantiate a student's withdrawal. Instructors need to be notified a week in advance of any leave of absences with documentation.
Progress Policy
Students must maintain an 80% grade point average. Those who do not will be placed on probation for 30 days. During the probation period students must raise their grade average to passing or higher. The student may be terminated if grades are not satisfactory at the end of the probation period. Termination shall be at the school Directors discretion.
Grading System
96-100=A
86-95=B
76-85=C
70-75=D
Under 70=F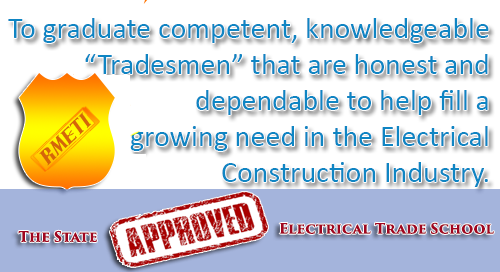 WE ARE NOW OFFERING ALL OF OUR CLASSES ONLINE STARTING IN JULY
Conduct Policy / Dismissal / Facilities / Educational Services ...
Conduct Policy
All students are expected to act maturely and are required to respect other students and faculty members, through their actions and with no foul language. Possession of illegal drugs or alcohol of any kind, are not allowed at any time on school property or any class location. Any violation of school policy may result in permanent dismissal from school.
Dismissal
Any student may be dismissed for violating the rules and regulations of the school, as set forth in school publications. A student also may be withdrawn from classes if he or she does not
prepare sufficiently, neglects assignments, or makes unsatisfactory progress with classes or monthly payments. The director, after consultation with all parties involved, makes the final decision.
The Director of Education may temporally suspend (or have removed) any student whose conduct is disruptive or unacceptable to the academic setting. After appropriate counseling,
those students who demonstrate a genuine desire to learn and conform to school standards of conduct may be allowed to resume attendance with a 30 day probation period. The Director will review each case and decide upon re-admittance.
Facilities
The School meeting at:
1091 S Parker Rd.
Denver, Co. 80231
Educational Services
Programs are for Subjects taught mainly focus on the National Electrical Code and we also provide knowledge to be used day to day.
Occupational Objective is to provide top quality "Tradesmen" to fill a growing need in the electrical construction industry.
Length of RMETI programs are 5 months each. This accelerated schedule allows us to teach 4 years of information in 2 years. If you have accumulated enough time working in the field you can be guaranteed the knowledge to pass your Residential Wireman license in 1 year, 2 years for a Journeyman.
Now accepting APPLICATIONS !
No High school diploma or GED required.
WE ARE NOW OFFERING ALL OF OUR CLASSES ONLINE STARTING IN JULY
Previous Credits / Student Grievance Procedure / Student Complaints ...
Previous Credits
Credits from another institution will not be accepted.
RMETI School does not guarantee transferability of our credits to another institution, unless there is a written agreement with another institution.
Student Grievance Procedure
Any complaint a student has should be put into writing and address it to the Director. The complaint will be verified and discussed with the parties involved.
A third party arbitrator may be asked to help if needed.
Now accepting APPLICATIONS
No High school diplomo or GED required.
WE ARE NOW OFFERING ALL OF OUR CLASSES ONLINE STARTING IN JULY